It's easy to see how beautiful window treatments can transform a room or space. But did you know that you can also make your home and windows more energy efficient just by using your blinds? While we all love the warm, sunny weather here in Southwest Florida, the heat and sun can take a toll on your energy bill and the comfort of your living space.
WHY IS ENERGY EFFICIENCY IMPORTANT?
Have you ever come home to a steaming hot, sunny room mid-day with the AC blasting trying to keep up with keeping things cool? According to the Department of Energy, we can lose 30-50% of our home's energy at the window. That means more heat gain into your home and the more your AC has to work to try to keep things comfortable and cool. All while racking up your monthly energy bill.
Thankfully, Amy's Blinds offers perfect solutions that combine function with style to provide you with greater energy efficiency at your windows.
HUNTER DOUGLAS' HONEYCOMB CELLULAR SHADES ARE ONE GREAT SOLUTION.
We know that Hunter Douglas is a leader in innovation. But did you know that Hunter Douglas first invented the honeycomb shade we all know and love in response to the energy crisis in 1985? Since that time, they have only increased the shade's energy efficiency and added a variety of pleat sizes, operating systems, colors, and fabric texture choices to add customized style to your home. Duette and Applause honeycomb shades are able to cover some of your largest windows while still maintaining a minimal stack at the top headrail when open. You can also utilize the honeycomb Vertiglide, a vertical option for sliding glass doors that also has a small stack back.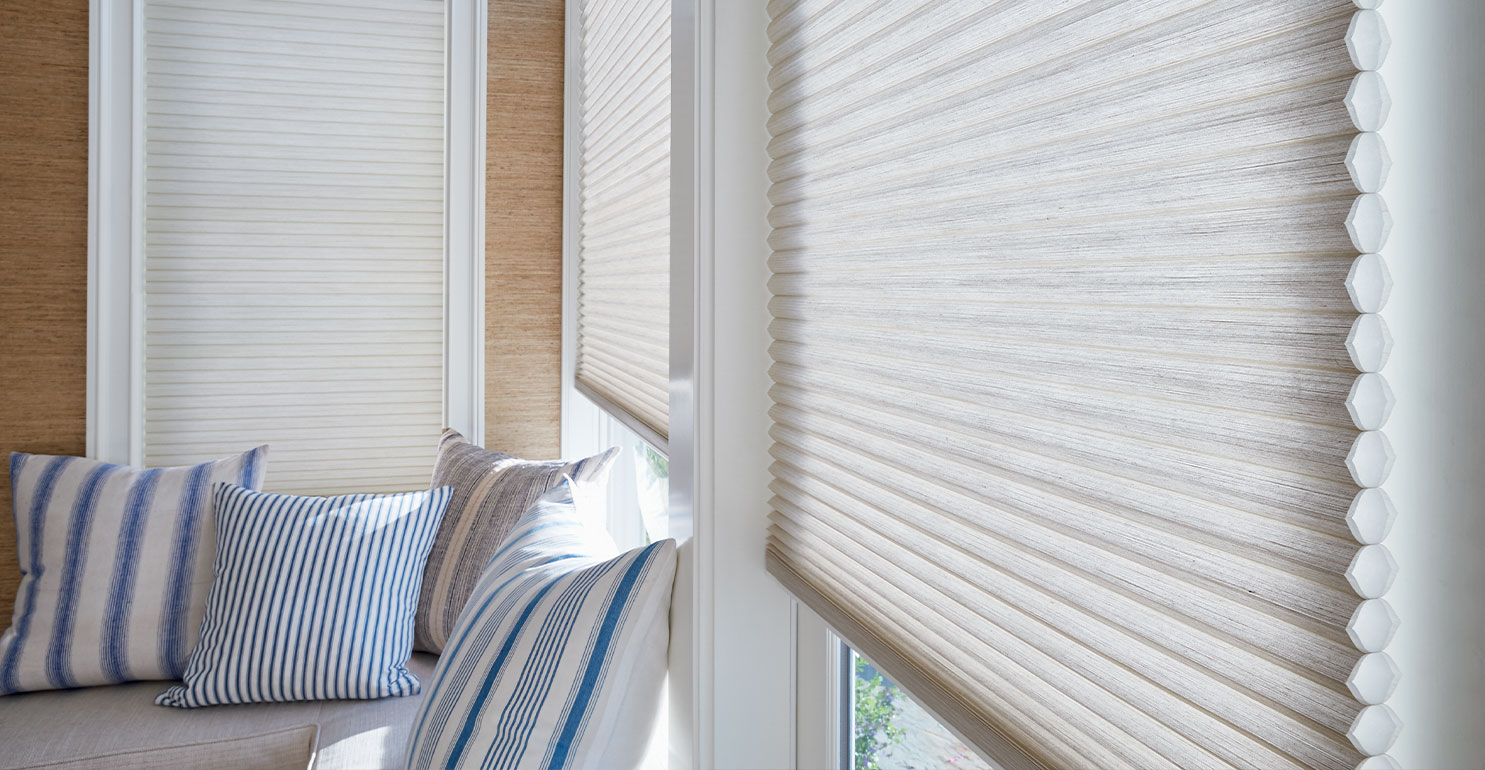 HOW DO CELLULAR HONEYCOMB SHADES WORK?
Honeycomb shades are uniquely designed with their classic cellular honeycomb shape to provide pockets of insulation to increase heat control when the shades are in the down or closed position. Keeping the heat out and the cool air in. Shades come in a single honeycomb option available with Applause shades. Duette honeycomb shades offer a double honeycomb cell within a cell construction for increased insulation and energy efficiency for those very hot and sunny windows.
The newest cellular shade, Sonnette by Hunter Douglas is another great option. It's updated, modern design combines the sleek look of a roller shade with a cellular shade to match energy-efficient function with contemporary style. It's cellular air pockets provide the same insulating effect as Duette and Applause.
Honeycomb Duette and Applause shades and the Sonnette cellular roller shade products have been certified by the Attachments Energy Rating Council (AERC). The AERC provides an accurate energy performance of window coverings in comparison to other companies and products so that you can find the best energy-efficient shade for your needs. For more information about the AERC and to obtain the energy ratings for Duette, Applause, and Sonnette individual products visit
https://www.hunterdouglas.com/aerc
.
All cellular shade options come in different opacities for daylighting, room darkening, privacy, and to optimize insulation and heat control at the window. To further customize your design, choose from a wide range of fabrics, colors, textures, and operating systems.
Add PowerView motorization and home automation to schedule your shades to operate on a customized energy-efficient schedule based on the time of day. Program your shades with your home's geographic location relative to the changing sun throughout the day, changing seasons, and time of year. PowerView automation allows your shades to work on their own even when you're not at home, always keeping things comfortable and cool.